Key Ingredients
The benefits of clean beauty
Coconut Oil
(Caprylic/Capric Triglyceride)
Bring on the balmy bliss. Deeply moisturizes, nourishes and prevents chapping.
Sunflower Wax
(Helianthus Annuus Seed Cera)
A major player in holding the team together. Binds the formula's oils, creates structure, keeps lips from feeling dry, and adds soft shine.
Beaker-Brewed Beeswax
(Synthetic Beeswax)
Our beeswax tastes just as sweet. Protects lips from sun and wind, and lets the bees be.
No Sweat Wax
(Microcrystalline Wax)
Holds things together, in the tube and on your lips, stopping lipstick sweat in its tracks.
Smooth Operator
(Isononyl Isononanoate)
A conditioning emollient that ensures luxe, balanced glide for ultra-comfy yet controlled application.
Forbidden Fruit
(Aroma)
The mood-boosting aura of sweet exotic berries. Because you deserve an extra treat.
Lips have been talking
Customer Reviews
09/15/2021
KP

United States
One Badass Red
I just received my Lilith Lipstick & I love (!) it. I probably own 50 different red lipsticks & this has moved right up to the top of my faves. It's really comfortable & creamy for a matte. I've had it for 6 hours & it hasn't budged or required a touch up. #lovelilithlipstick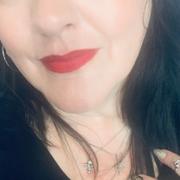 10/21/2020
Sheri R.

United States
AWESOME ❤️❤️❤️
Color is bold and stunning! Not for the weak of heart! Goes on beautifully and stays on. Easy to mix with Eve for a more pink ( softer) color ...FEMPOWER is fantastic - the products and the advocacy of the company as well. Love you!!
08/19/2020
Katerina

United States
Best Red EVER!!
I have never been able to find a red lipstick that actually looks good on my and oh my god, after one swipe of this lipstick I FELL in absolute love. It is insanely pigmented and has the smoothest, softest glide I have ever experienced!!! Definitely recommend!